Maximize Your Guitar Tone
Equipped with true analog compression and a versatile boost too, the Strymon Compadre compressor/boost pedal could be the key to your ideal guitar tone. To control your guitar's dynamics, you have your choice of studio quality transparent compression or sustaining, vintage-style compression. The boost section offers a huge range of tones to explore, offering Clean and Dirty boost modes plus three selectable EQ curves to fine-tune your sound. You can maintain your guitar's attack with heavy compression by dialing some of your dry guitar tone back in. Whether you need to add some fatness to your tone, focus your mids, or balance out your chicken pickin', your expectations will be exceeded with the Strymon Compadre compressor/boost pedal.
Hear your guitar rig like never before
If you're still searching for your dream guitar tone, you may be surprised how close you already are when you add some compression and boost your signal. Compression is a great way to add fullness and balance to your guitar's tone, while tailoring how your dynamic range interacts with your pedals and amplifier. Whether you play country, jazz, metal, fusion, or anything else, the Strymon Compadre will help you see your guitar rig in a whole new light.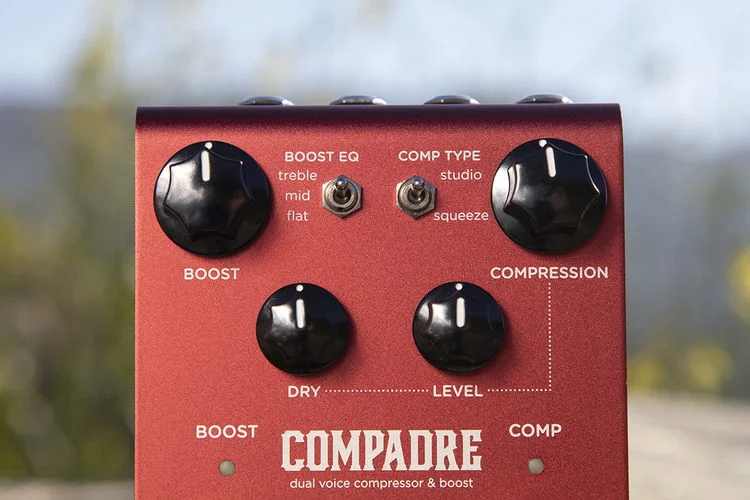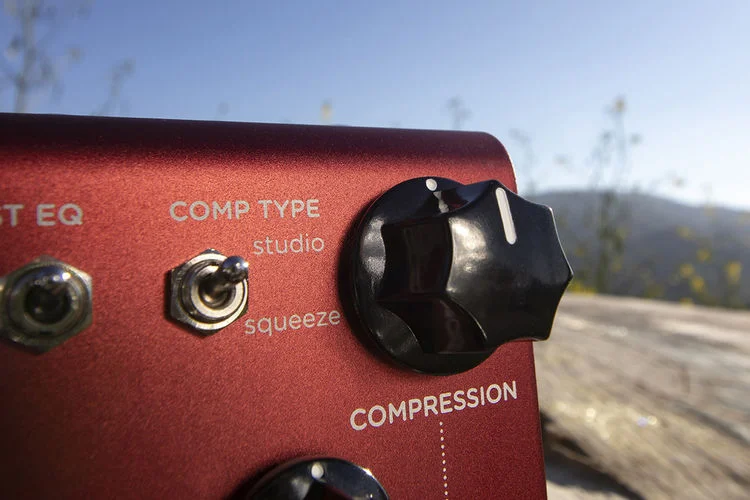 Two premium compression circuits for versatile dynamics control
The Strymon name goes hand-in-hand with sonic dexterity, so it's no surprise that the Compadre pedal packs two distinct compression modes. Studio mode is designed to be smooth and transparent, controlling dynamics in the manner of classic rackmount compressors. Squeeze mode conjures heavier compression with lots of sustain, squeezing every ounce of sonic excellence from your core guitar tone.
Independent Boost circuit you can shape any way you like
Whether you normally play straight into your amplifier, or you shape your sound with a pedalboard on the way in, giving your guitar signal a boost (whether with a pedal or dialing up your volume control) can be the perfect way to add that extra sparkle and intensity. Guitarists love that the Compadre offers an independent boost section, and even more so because it offers three EQ curves to suit a variety of styles. Choose Flat for a transparent, full-frequency boost. Or use it as a treble boost to add grit and sparkle without getting muddy. Or select Mid for a punchy midrange boost that will secure your guitar's spot in the mix.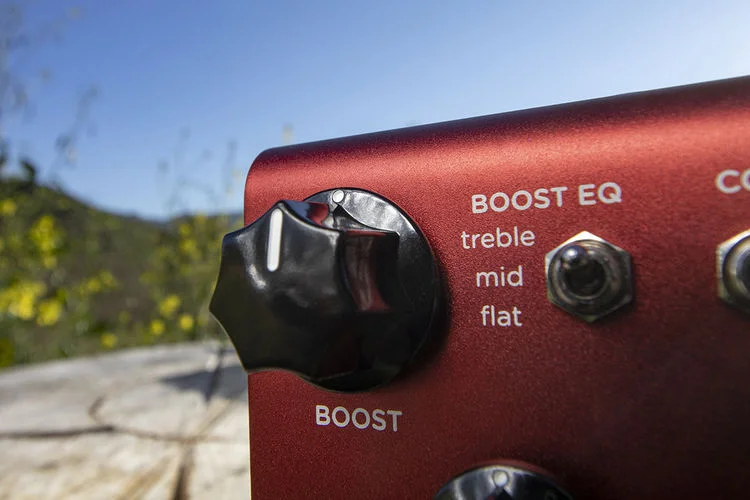 Strymon Compadre Compressor/Boost Pedal Features:
Compressor and boost pedal for electric guitar
Two compression modes and three boost EQ curves offer a wide sonic range to explore
Studio compression mode offers smooth, transparent compression
Squeeze compression mode based on vintage units for heavy compression with long sustain
Two boost modes for Clean and Dirty voicings
Boost EQ switch selects from full-range boost, treble-emphasized boost, or midrange-emphasized boost
Expression pedal input turns Compadre into a VCA-based volume control
Use Strymon's MiniSwitch or MultiSwitch Plus (sold separately) to recall custom settings
Integrate Compadre with your MIDI environment for access to 300 preset locations (requires MIDI EXP Cable, sold separately)
9V power supply included
Tech Specs
Pedal Type:

Compressor, Boost

Analog/Digital:

Analog VCA Compression, Digital Control

Inputs:

1 x 1/4″

Outputs:

1 x 1/4″

Other I/O:

1 x 1/4″ TRS (volume expression)

MIDI I/O:

1 x 1/4″ TRS (MIDI EXP cable required)

True Bypass:

Yes, Switchable to Buffered

Power Source:

9V DC power supply required (included)

Power Usage:

150mA

Height:

1.75″

Width:

4″

Depth:

4.5″